Teoría Incertidumbre #8
Glass Harmonica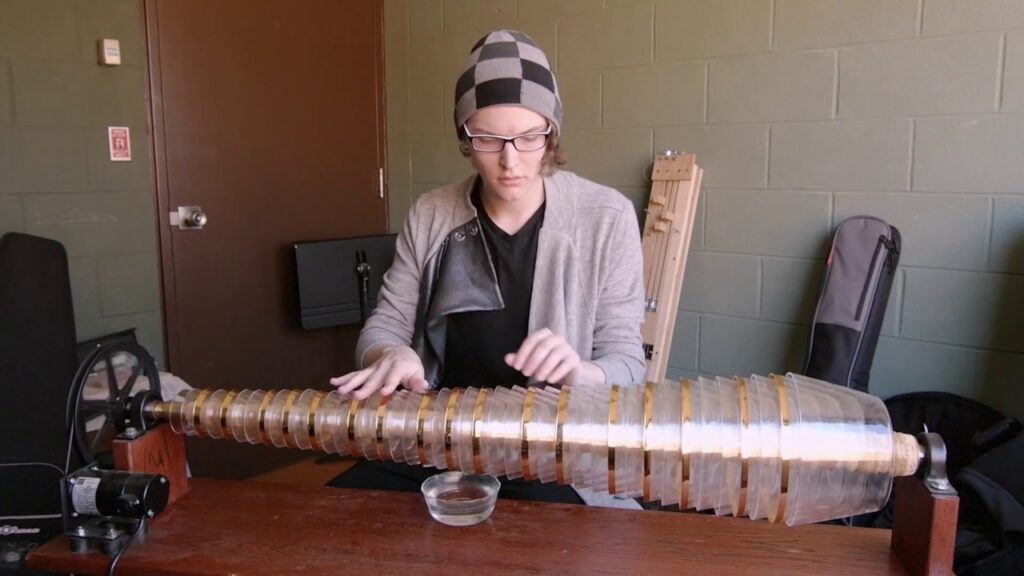 Works:
Carl Leopold Röllig – Quintet For Glass Harmonica & String Quartet in C minor – I. Largo mesto.
William Penne – Crystal Rainbows The Sounds of Harmonious Craft (1978) (US, Electronic, Experimental).
Glass Harmonica.
Invented by Benjamin Franklin in 1762.
Based on the possibility of sounding the edges of the crystal cups with water with wet fingers. The crystal harmonica consists of a series of glass bowls of different sizes superimposed and horizontally aligned, traversed by a shaft connected by a strap to a pedal that rotates them while playing, in the manner of an old sewing machine. It is touched by wetting the fingers lightly and touching the plates while they rotate, which produces a crystalline sound. It currently has a record of four octaves.
In some places it was banned because it was considered harmful. It was said that it caused cancer in those who touched it; although nowadays it is known that the real cause was the lead with which the crystals were made in the past and that it could also be a cause of lead poisoning, which is why its use is becoming more and more frequent, though, with manufactured harmonicas of crystals without lead.
Exhibition of Instruments including the Glass Harmonica.
In Washington in the 70's there was an exhibition called T "he Harmonious Craft: American Musical Instruments", which consisted in showing American handcrafted instruments and some also considered esoteric. The Sounds Reasonable label asks William Penn to compose music based on the instruments of the exhibition. As a curiosity in the exhibition there were also Harry Partch instruments.
The selected instruments by William Penn were:
–Cloud Chamber Bowls designed by Harry Partch.
– A stainless steel cello of one string by Robert Rutman.
– The Electronic Jawbone by Bob Natalini.
– A Triple Ocarina by Susan Rawcliffe.
– A iron strings guitar by Max Krimmel.
– A bicentennial turkey tambourine by Jan Brooks Loyd
– Glass Harmonica.
– Others.
Video