Music selection blocks 1, 2, 3, 4, 5, 6, 7, 8, 9, 10, 11 and 12: Shak Benavides.
Musical selection blocks 13, 14, 15 and 16: Los Valientes Duermen Solos.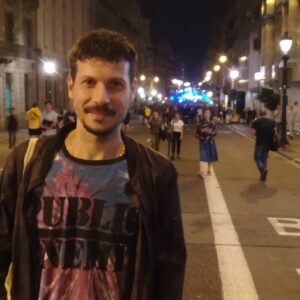 LOS VALIENTES DUERMEN SOLOS
Los valientes duermen solos burst in 1991 in the marginal art scene of Barcelona, -in a world dominated by the ego and absolute personalism-, by painting in the street, in graphic manifestos, published in different independent media, in which the subject who writes does not stop disappearing . In this sense, the being itself, questions the idea that Los valientes duermen solos never attended art schools, or university.