Espace Plein #10
November 2020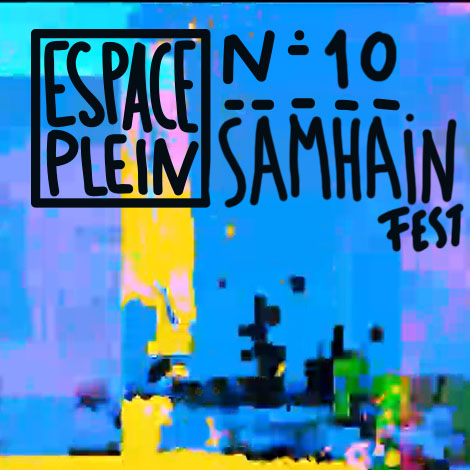 Espace plein 10, is a fragment of what happened last November 1st, 2020 at the festival of electronic and experimental music Samhain, organized for 5 editions in Murcia, Spain. Organized by the Murcian experimental music label Vulture Culture Label, specialized in the visibility of artists from the region, and WanFeng Magazine, a medium for the diffusion of rare culture, with interviews and experimental podcasts.
This program has been possible thanks to the voices of Shak Benavides, Juliana España, Andres Navarro, Alberto García, and the inestimable strength of Pablo Jordán, Laura Morosoli, Antonio Riquelme, Juan Rivas, David Gorreto, Jose Luis López, Ana Espín, Ruda and Andrés Morales.
Samhain is a technochamanic experimental arts festival that plays with electricity and ritual as a form of expression through performance, music, video art and installations that build a temporarily autonomous zone, in which for 5 years, experimental musicians such as Carlos Suárez, Susana López, Pablo Jordán, Úrsula Bravo, Selu Herráiz, Derek V. Buckle, Beatrix Weapons, Josman P#, Descendimiento, RUDA, Render Glitch, Flamante, Nazareno, Builtthenburnt, Al de la Algaida, Flamante, Lilith, Ruido Lejano, José Murcia (Craneal fractures) & Jose Podredumbre, Listas Futuristas, Sofía Bertomeu, Alex Wight, Johan Sandas, Sajjra, Son Fuet, Renderglitch, Falsos Profetas, Spiricom, Auroros Boreales (Romu López & Costalero), Salva Alambre, Crisanto Bopo, Umami, WAR.