Modulism #5
3 Year Itch Birthday Session Volume 3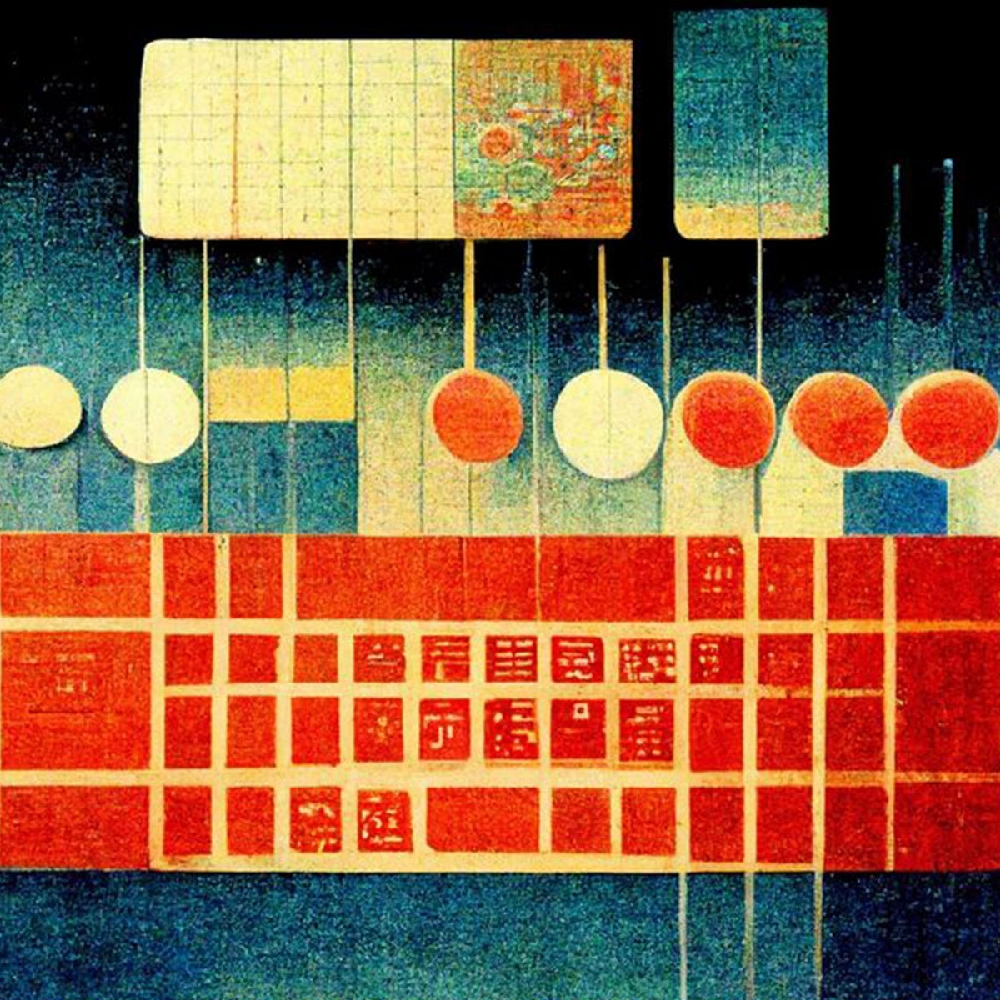 Modulisme is celebrating 3 years of existence through special compilations called 3 Year Itch Birthday Session and here it is v.3
Klaatu - Escape to victory, 1981 !!!
Born in 1945, Klaatu embraced the Buchla aesthetic back in the 70's during a stay in San Francisco... Returning to Marseille although he knew Marcel Frémiot, Francis Miroglio o Jean-Claude Risset -He used to express himself only in music: "Escape to Victory 1981" is not a tribute to that film directed by John Huston the same year, but rather a cry of joy following the electoral victory of François Mitterrand. In a difficult context, following the eviction of the comedian Necklace and so many years of supporting the right-wing government, many of us felt happy and victorious. The delirium came later but that is another story, for now we are proud to make this song public more than 40 years after it was recorded... Although socially we have lost a lot since then, there is still this victory thanks to the music.
Philippe Petit - IOU oui
I thought about playing my Buchla System 200 and working on a short suite for Klaatu while playing some of his tunes on my Serge system....
More than 40 years later expressing how much I owe to such innovators, remembering that the further back I listen, the further ahead I can think...
That's exactly where my music lies, deeply influenced by the pioneers of electronic music but rejecting any kind of passeism and deeply current, my present is retro-futuristic.
Benge - B200 sidewaves 2-04
Benge is an electronic musician and producer working in the analog and digital domains. He is an advocate of vintage synthesizers and music equipment, and has created a large body of work performed on his Memetune Studios in the UK. His latest project is a self-made television series that covers the history and use of electronic instruments called "The Memetune Programme".
Michael White - Transmission
Since 2006, Michael White has created music using the modular music system STS Serge. Over the years, its Animoo and TKB 2 panel originals have been expanded (with the guidance of his friend Rex Probe) into a beast that is at times mangy, disheveled and unruly and at other times pure and simple. Described as ambient tone poems, the music moves somewhere between classifications or styles. In 2020 he began releasing music on Bandcamp.
Doug Lynner - Occasion 3
Doug Lynner is a lifelong musician whose career began as a keyboardist and guitarist in psychedelic rock bands in the 1960s. In parallel, he earned a college degree in electronic music composition from the California Institute of the Arts, where he studied with Morton Subotnick, Harold Budd, James Tenny, Leonid Hambro and Nicholis England.
He performs internationally, hosts a weekly FM radio program (Bloop and Quack), teaches electronic music and music composition privately and presents free modular synthesizer video tutorials.
Tom Djll - Greetings
Tom Djll studied electronic music with Stephen Scott at Colorado College, working with EMS Synthi 100. Spent 1981-1993 working with Serge Modular Music System (SERGE WORKS published by netlabel Modern Hits by Other Minds, 2018) before enrolling in Mills College Contemporary Music Program, where he furthered his quest to develop and integrate an idiosyncratic trumpet language into electronic sound worlds. He resides in California.
Palle Dahlstedt - Pipes
The music of Palleranging from piano solos to orchestral music and interactive software installations, has been performed on six continents and has been awarded several international prizes (e.g. the Gaudeamus Prize 2001). In his research, Dahlstedt studies the deep entanglement of art and advanced technology, particularly in relation to the creative and aesthetic implications. He develops new technologies for improvisation, composition and art, and is especially interested in advanced algorithms in the creative process, in technologies that enable performance embedded in electronic sounds and new types of interactions, based on an emerging systems view of human technology. interactions. Through his publications and artistic works, he has contributed technologies and theories to the field of computational creativity and musical interaction.
Anla Courtis - Metallic Serge I
Alan Courtis (aka Anla Courtis, Alna Courtis, etc.) was born in 1972 in Buenos Aires, Argentina. She was a founding member of the ReynolsHe is a legendary band that has recorded more than 100 cds and has left a great mark in noise music. He has worked in the field of sound art, electroacoustic music, drone, noise, improvisation and composition.
This work was recorded on March 5, 2014 at Elektronmusikstudion EMSStockholm, Sweden playing his Serge modular synthesizer, metal object and contact microphone.
Batchas - Chrysalide
Batchas began playing experimental electronic and industrial music in 1983 using analog machines. The way our world vibrates has always fascinated him and today he enjoys every ephemeral moment he spends improvising on his modular systems.
Frank Bretschneider - Ecolette
Frank Bretschneider is a musician, composer and video artist based in Berlin.
Founded the tape label KlangFarBe in the mid-1980s and later co-founded the label Raster-Noton. Most of his early solo albums, about half a dozen, were under the alias. Komet. He has published his work in Raster-Noton, 12k, Line, Mille Plateaux o Shitkatapultand has contributed to some historical compilations such as "Clicks & cuts" and the "20′ to 2000" series.
for more, please visit modulisme.info