Space Oditty Recollection #32
April 2022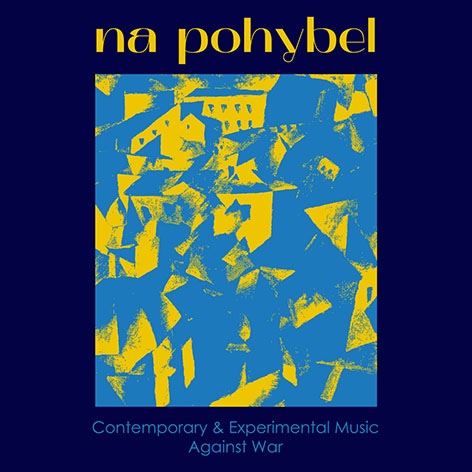 Na pohybel _Music Against War_ Green Fairy Records
"Na pohybel" the compilation released by Green Fairy Records on March 13, 2022. It is a collection of contemporary and experimental electronic and electroacoustic music, which is a voice against the war in Ukraine. The compilation consists of 38 pieces of ambient, noise and acousmatic music composed by international artists. I present you a small part of the material that you can listen to in full on the bandcamp website of Green Fairy Records. You can also buy the music to support Unicef Ukraine.
greenfairyrec.bandcamp.com/album/na-pohybel-contemporary-experimental-music-against-war
* Na pohybel" means "Death to our enemy", translated from an old Polish toast.
Complete tracks and fragments used in the mix:
* Green Fairy Records - na pohybel - Contemporary & Experimental Music Against War - 20 T. Jervell - Hypnagogia
* Green Fairy Records - na pohybel - Contemporary & Experimental Music Against War - 38 Struktural - Bela
* Green Fairy Records - na pohybel - Contemporary & Experimental Music Against War - 11 SqrtSgl - Proxy War
* Green Fairy Records - na pohybel - Contemporary & Experimental Music Against War - 24 Detektto - Aftermath reflections
* Green Fairy Records - na pohybel - Contemporary & Experimental Music Against War - 35 Jotka - UŚB -Fragment With Variation
* Green Fairy Records - na pohybel - Contemporary & Experimental Music Against War - 17 Darkness_io-Madison Rose - EAUAEarth
* Green Fairy Records - na pohybel - Contemporary & Experimental Music Against War - 03 Bruno Liberda - Kadath
* Green Fairy Records - na pohybel - Contemporary & Experimental Music Against War - 16 MichaAngi - eject
* Green Fairy Records - na pohybel - Contemporary & Experimental Music Against War - 04 Daktyle - SystemDown
* Green Fairy Records - na pohybel - Contemporary & Experimental Music Against War - 31 Zamarte - Sabat
* Green Fairy Records - na pohybel - Contemporary & Experimental Music Against War - 26 Mountains Of Pixels - Walking Out The Door, Leaving Everything, Endlessly
* Green Fairy Records - na pohybel - Contemporary & Experimental Music Against War - 13 Piotr Dąbrowski - Житомир
* Green Fairy Records - na pohybel - Contemporary & Experimental Music Against War - 23 The New Emphatic - Never follow Blindy
* Green Fairy Records - na pohybel - Contemporary & Experimental Music Against War - 32 Ohms Dot Arc - Humus
* Green Fairy Records - na pohybel - Contemporary & Experimental Music Against War - 02 Giorgio Magnanensi - MES3
* Green Fairy Records - na pohybel - Contemporary & Experimental Music Against War - 27 AR.MA. - Ukraina
* Green Fairy Records - na pohybel - Contemporary & Experimental Music Against War - 01 Jerzy Mazzoll-Michał Szturomski - Latarnik