Text: Stahlfabrik.
They were years of transgression, of curling the curl previously curled by the excesses of glam, the provocation of punk and the introspection of post-punk. The early 80s dawned with a soundtrack that would forever change the face of the subway cenacle, cleaning the floor of sequins and safety pins to flood it with sonorous shadows tied to dark characters of chronological attire whose sonic mixtures carried the implicit message of breaking down the established into a thousand pieces without anyone noticing.
Said Beate Bartel of Mania D. y Liaisons Dangereuses that his influences were so wide that they would not fit in the interview time he was granted at Circa in 1980. And the fact is that Der Plan, D.A.F., Malaria or the aforementioned projects of the Bartel were in fact the heirs of that Krautrock that reigned at the stroke of synthesizer in the previous decade. In 1981, German rock artists cohabited with underground electronic pop sound projects in numerous Teutonic festivals, fathers and sons side by side in the same reality that ended up germinating in the most surprising works by Conrad Schnitzler or in the more intense sonic explorations of Einsturzende Neubauten.
It was the Dark Eraa period that cast a luminous shadow over the brains that were connected to the newly released "New Wave" but they were not satisfied with what they were supplied by the mass media of the moment, because there was another wave that was shared only half-voiced in small circles of minds eager for new things that would make not only the old things explode but also the established as "modern" and "transgressor" that maybe it wasn't so much.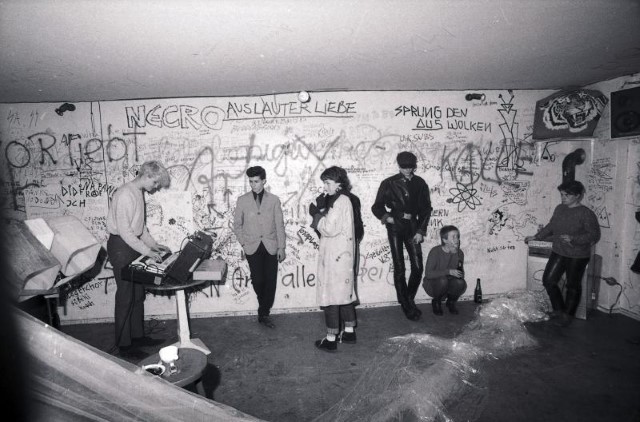 Who was in the "Tempodrom" I wanted nothing to do with the alienating FMs; I would rather enjoy the "Die Geniale Dilletanten". and take away an indelible souvenir of the emerging "Neue Deutsche Welle'" Some claim that the "No Wave" was conceived in those glorious moments, but it was partly a satirical pun, rejecting the commercial elements of the then popular genre. New Wave, and also a statement of the experimental nature of the music: No Wave music did not belong to any fixed style or genre.
Something similar had happened a few months earlier, in December 1980, in the London Institute of Contemporary Artswith the unforgettable concert given by some guys who called themselves like the former CZurich affé that saw the birth of the Dada. That Voltairian Cabaret of sound of Richard H. Kirk and theirs blew up the canons of the new prefabricated trends with their curved music proposal. In Lille, France, the brothers Philippe and Hervé Lomprez were doing the same as they unleashed rivers of ink in the specialized magazines to try to define or label their dark synthesized after punk, to call it in some way.
Gone are those cold nights of pre-MIDI sound, of loneliness and detachment, of long listening of Klinik, Kas Product, Death in June, S.P.K., Dead Can Dance... Several decades have passed when that leaden atmosphere of a Plaça de la Virreina in Barcelona was tinged with timeless sounds of Virgin Prunes or the psalmody of Lydia Lunch that came out of the Walkman of a teenager who returned with his hands inside the pockets of his leather jacket full of Joy Division, Neu!, Devo o Psychic TV under a faint drizzle to the corner assigned to him in his dwelling, presided over by a radiocassette whose tuning was set to 91.8 of the FM station of Ràdio P.I.C.A.
Now, almost four decades later, new proposals are once again shining a light on the darkness, and names such as Lebanon Hanover, Boy Harsher, Kaelan Mikla, Rough Line o The Agnes Circle come to join forces with those who Xeno & Oaklander, Martial Canterel, Sleep Museum, Maska genetik, Haus Arafna, November Novelet and the whole cast of labels that, like the Galakthorro o Wierd populated the disturbing universe of dark wave, minimal wave, post-industrial that emerged between the first two decades of the new millennium.
This is the Dark Era that we can relive in TeslaFMthe most timeless era of sound.
The most underground scene of the 80s, and its current evolution, contained in a block of 1 hour, with synthwave, darkwave, noise, industrial, new wave, postpunk, no wave...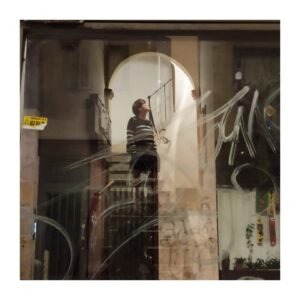 Galician selector, she has been touring the BCN underground scene for more than a decade. Synthesizers are the core of her selections and her tastes move between minimal wave, dark wave and cold wave.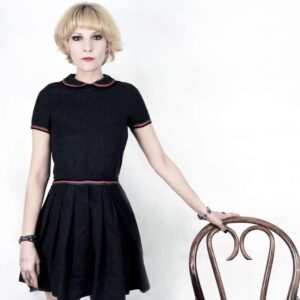 Ruth Garciaaka From Hell, is an avid collector of music that does not understand genres. The journalist and dj from Madrid is the creator of Mots Musica platform where coverage is given to the most alternative musical and cultural scene, betting on local artists and reflecting a wide range of sound whose common thread is quality.
This tireless artist has also provided the voice for what will be the first album of Man Of Seasonsproject, a project led by Victor-Yann (Swesor Bhrater), and collaborates with names like Vacío Perfecto, well known in the national industrial scene.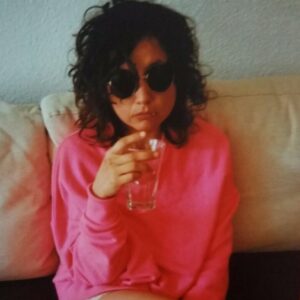 Nizaiyah Cassian Yde. Mexican, researcher, making neighborhood from Hospitalet. She is part of Sorotech, autonomous feminist festival of non-gender mixed electronic music that takes place since 2018. Since childhood she has been accompanied and healed by the musics of ritual, spirituality, industrial and postpunk. Under the pseudonym of Culebra her sessions recover the darkest and most radiant of the 90s techno.
In Era Obscura she will share her passion for the music of overflow, highlighting the production of roaring ladies, guitar-playing deviants and composing bastards, combining the best of 80s darkwave, EBM, new wave and dark italo from the 80s with recent productions.
Music selection blocks 1, 2, 3, 4:, 13, 14, 15, 16, 17, 18, 19, 20 and 29: Ishak Benavides.
Music selection blocks 5, 6, 7, 8, 8, 9, 10, 11 and 12: Stahlfabrik.
Music selection blocks 21, 22, 23, 24 and 25: Néboa escura.
Music selection blocks 26, 27, 28, 30, 31, 31, 32, 33, 34, 35, 36 and 37: From Hell.