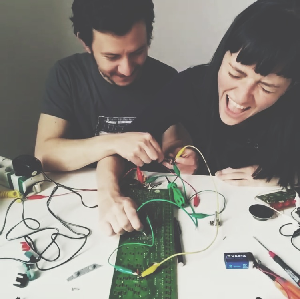 ALESSANDRO CONTINI & ALICE PINTUS
AA are a couple, share a house, two cats and a love for experimental and avant-garde music.
Alessandro studied Computer Science and Music Technology in Milan, Italy. He works in the open source field, and for the last 10 years has organized and led workshops on building hardware and software to make sounds and noise.
Alice is an interaction designer. She has always loved electronics and circuit bendingand has built machines for noise. Alice loves contemporary classical music because she can think more clearly while listening to it.
"How do you noise!" is a program where we investigate audio techniques for making noise, experimental music and sound art. Each episode focuses on a specific technique, think field recording, non-imput mixing, contact microphones, circuit bending just to name a few.
We'll listen to some pieces performed using the technique, from renowned artists to underground performances by local people, and maybe talk a bit about how to reproduce it.
Produced by AA.
If you like How do you noise?, we recommend you: