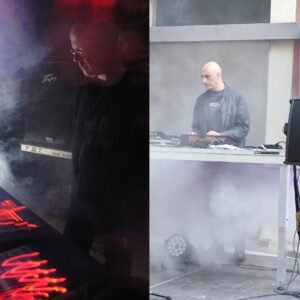 TONI MARTÍNEZ & MAURI IBAÑEZ
Toni Martinezmore commonly known as Banding!Parabolic, restless musical activist, producer and sound experimenter from Vallès. He has been part of the organizers of the Freestyle Festival of Terrassa. He currently performs the program "Exòtica Radio"to Matadepera Ràdio.
Mauridj, dj, electronic music producer and creator of performance acts. He has collaborated in specialized music press. He has also performed in several national and french festivals. He has published several albums for record companies around the world.
Toni Martinez and Mauri recover the project Transdatato offer here a program proposing new sonorities that transport us to different states of mind and re-affinement of the ear to be open to new sensations and emotions.
TransdataOriginally, it was a group created in 1996 with which they published a CDR, and they did several DJ sessions together in Terrassa and Barcelona.
If you like Transdata, we recommend:
If you like TeslaFM, we recommend: