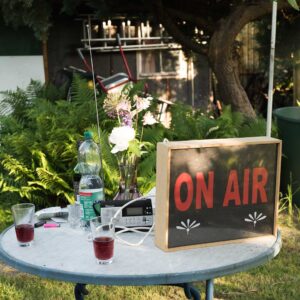 Gabi Schaffner is an interdisciplinary sound artist, curator and writer based in Berlin.
Travel is a vital part of his work, both as a source of sound recordings and language, but also as a "a rite of passage" which allows the artist to explore alternative narrative structures. She is also the artistic director of Datscha Radioa temporary (partly nomadic) radio station based in Berlin.
His work in the field of radio art is broadcasted internationally, e.g. on Deutschlandfunk and ABC Australia.
In a world of changing climatic conditions, Datscha Radio examines how art and economics,
sound and ecology can communicate in a sustainable and shared way.
Datscha Radio is a site-responsive mobile broadcasting project in collaboration with local digital networks of sound (and radio) artists, gardeners, scientists and DIY personalities.
Datscha Radio uses "the garden" as a metaphor and method for organizing knowledge and
different (cultural) concepts of growth.
Produced by the collective Datscha Radio.
If you like Datscha Radio, we recommend:
If you like TeslaFM, we recommend: