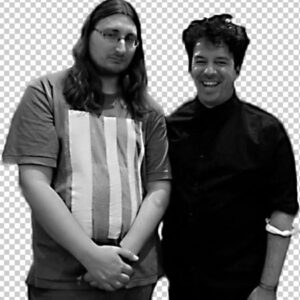 ENRIQUE DOZA & OLMO GLEZ. MORIANA
Enrique Doza is editor of TD Papeles, curator and director of the Tiendaderecha gallery, cultural manager, musician, concierge and hairdresser. He lives in Barcelona and is a radio content producer.
Olmo González Moriana is a teacher, photographer, cultural manager and father. He lives in Madrid and carries out various activities related to photography such as FIEBRE photobooks, MOB and is a Youtuber. They met in Madrid in 2014. They have made several editorial, intellectual and now radio collaborations.
If you like Okno Okno Okno, we recommend you:
Si te gusta TeslaFM, te recomendamos:
Si te gusta TeslaFM, te recomendamos: