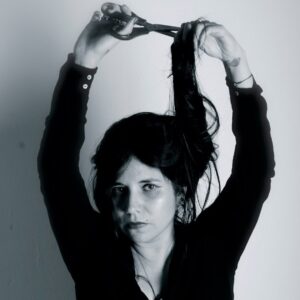 She started selecting music at a very young age, recording cassettes on demand and clandestinely at school, with the sole intention of getting money to buy CDs. Eventually she became music selectoralternating between post punk and no wave. Currently, he divides his time between his FM radio show, Traces of Carminevia El Prat Radio, Flushing Toiletsvia TeslaFM and the bimonthly curating of experimental artists that he does for the UMSM Art Museum in Lima. He also collaborates with the visuals in the project TerminalShe is in the process of developing her personal spoken word project.
Pilar Talavera
Flushing Toilets is configured as a place from where to investigate and understand the concept of storytelling, as listeners, but also as creators based on the our particular approach to listening, which is, in turn, a new approach to way of narrating. The pieces that are presented, in their majority, are narratives that are cyclical: stories of actions that took place and can only be recreated from the memory, instructions for use, fairy tales, sound poetry, spoken word pieces word, among others; all of them interventions that demand our attention, curiosity and participation as active recipients.
Produced by Pilar Talavera.
If you like Flushing Toilets, we recommend:
If you like TeslaFM, we recommend:
If you like TeslaFM, we recommend: